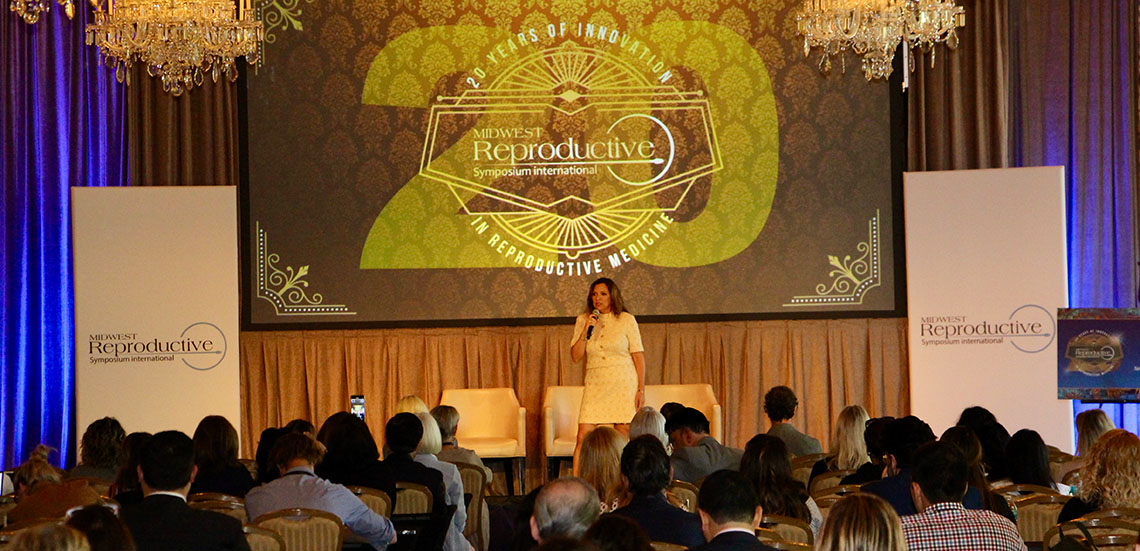 About MRSi
Midwest Reproductive Symposium international (MRSi), a non-profit 501(c)(3) organization, is an educational event that began in 2003 to promote the timely discussion of issues relevant to reproductive medicine. The primary objective is the provision of high quality, appropriate, continuing medical education for physicians, nurses, allied health professionals, scientists, and business experts engaged in the practice of and research in reproductive medicine.
Our Mission
MRSi's mission is to provide an exceptional forum for the multi-disciplinary exploration and discussion of current and emerging issues in reproductive medicine. Through the provision of high quality continuing medical education for all professionals in reproductive medicine – physicians nurses, scientists, mental healthcare providers, business and financial directors – MRSi seeks to stimulate the exchange of perspectives and both enlarge and sharpen the vision for optimal patient care and outcomes.
MRSi's main event is a 3-day symposium consisting of a mix of lectures, panel discussions and interactive workshops. It offers attendees a unique opportunity to network with colleagues and exhibitors in casual and formal educational settings and to share knowledge and experiences in several rapidly advancing fields within reproductive medicine.
Participants are also given the opportunity to attend specialized programming in the following areas:
MRSi-Scientific Session: The founding pillar of MRSi, this main stage session with all attendees present, focuses on sharing knowledge, best practices, and advancements in reproductive medicine, by some of the brightest and innovative thought leaders in our field.

Doctors & Scientists: This breakout session allows doctors and scientists to collaborate and discuss ways to improve protocols within treatment cycles and the laboratory to improve patient care and outcomes.

Nurse Practicum: As one of the only nursing education opportunities offered in the United States today, the Nurse Practicum is a breakout session program specifically designed for nurses by nurses that is an integral part of the MRSi conference.

Business Minds Program: The Business Minds program breakout session is an educational platform created for reproductive medical professionals to gather and discuss innovative trends and thought-provoking concepts within the business world of reproductive medicine.

REI Fellows Program: A unique breakout session opportunity offered to fellows within the reproductive medical field to meet with their peers and learn from some of the thought leaders in the field of reproduction. Fellows also share and display their research to medical professionals attending the conference. The top research will be shared as an oral presentation during the Scientific Session.

Mental Health of ART Patients: A captivating breakout session forum that brings together experts of the mental health profession and reproductive medicine colleagues for an open discussion on how to counsel patients who face difficult decisions.

CEO Summit: A special CEO Summit dinner presentation providing thought provoking debate and discussion on the most pressing business aspects of the fertility field.
In addition to our annual symposium, we also provide a number of educational opportunities throughout the year which are a mixture of in-person, virtual, and hybrid events targeted at our entire audience as well as programs specific to different sub-segments. With the mixture of event types, it has increased our reach and provided flexibility to our attendees
TARGET AUDIENCE
MRSi is an international meeting attended by physicians, nurses, mental health professionals, scientists, REI Fellows, OB/GYN Residents, as well as business experts from around the world who are highly engaged in the practice of and research in reproductive medicine. We target these multiple types of professionals for all our events and have participants near and far, especially within the last year being virtual! In 2003, the meeting was attended by 170 health care professionals. Since then, the MRSi program has seen an increase in attendance. In 2016, the event was host to over 430 participants and in 2017 the event hosted over 500 participants. In 2017, Louise Brown, the World's 1st IVF baby, met Elizabeth Carr, the USA's 1st IVF baby, for the first time live on stage at MRSi! This historic event garnered our sponsors more than 100 million views based on Nielson ratings. In 2019, the conference had over 600 individual participants. In 2020 and 2021, the MRSi conference persevered through COVID-19 and held multiple virtually conferences and an on site conference in September 2021. We are thankful for all the support of attendees, faculty members, exhibitors, sponsors, and the MRSi Board and Committee members during the unprecedented challenges and circumstances trussed upon us as individuals and healthcare professionals during COVID-19.